8 Business Movies that Will Help You Improve Your Business English Skills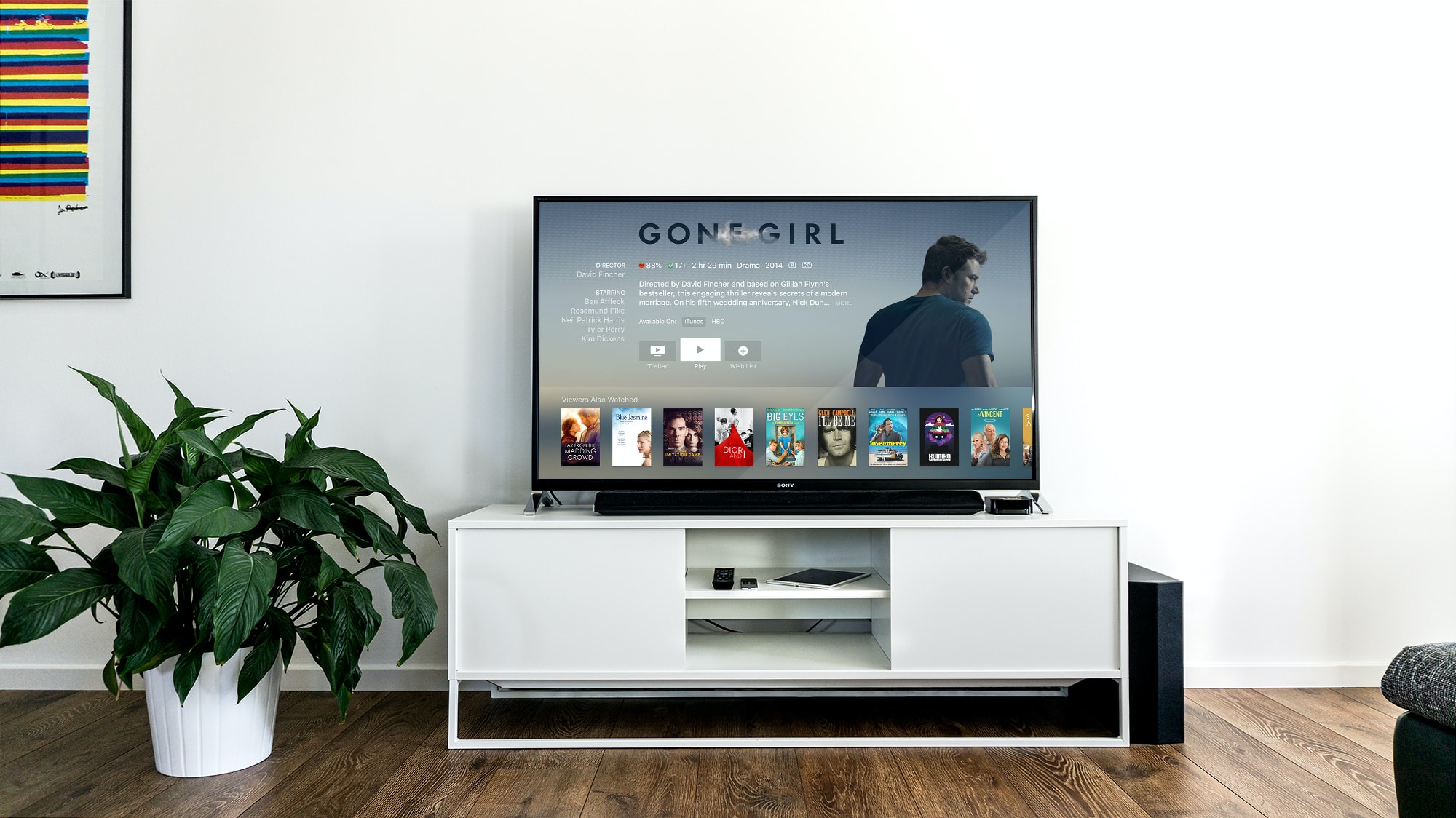 Watching movies is a great way to practice your English skills. You get to listen to correct pronunciation and intonation, pick up new vocabulary, and see the world through a cultural perspective that may not be similar to your own. What is even better about movies is that there are so many out there that you can narrow down what you watch based on topics you are interested in.
So for, say, English learners who are trying to improve their skills for work or business-related reasons, there are many business movies that you can watch to hone your understanding of workplace language. There are even movies that are specific to industries like fashion, finance, social media, etc. Here are eight different business movies that you can watch you help improve your business English skills!
The Intern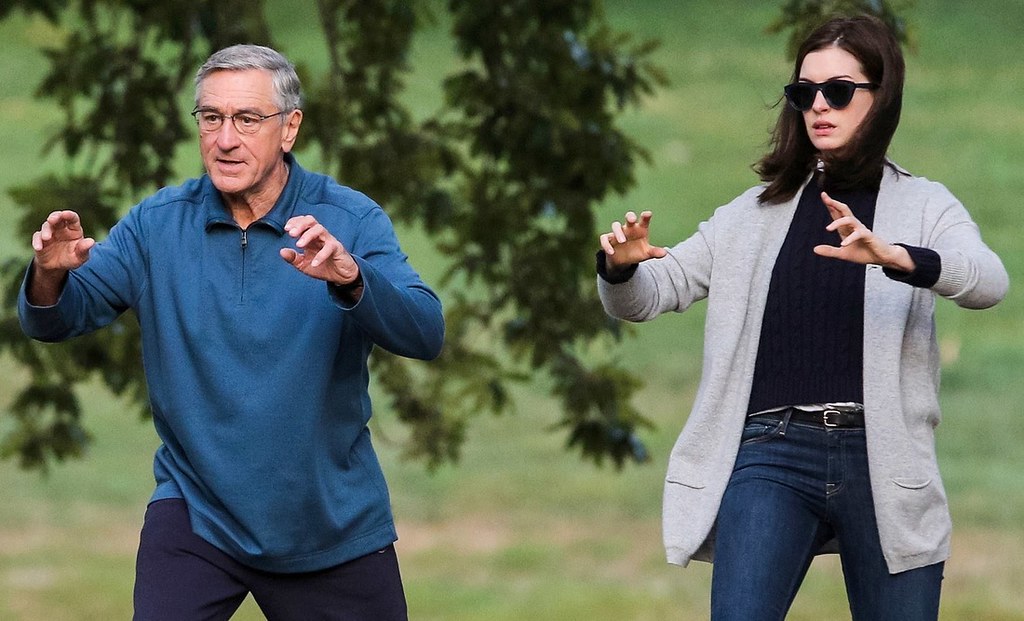 The Intern (2015) is a fresh comedy movie that follows Ben Whittaker (played by Robert De Niro), a 70-year old retiree who takes a job as an intern at a successful fashion start-up. He quickly adapts to the modern workplace and develops good relationships with his young co-workers, including his boss Jules Ostin (played by Anne Hathaway). As the movie progresses, Jules realizes that Ben provides valuable insight to the company from his experience as a salesman. They develop a bond; Ben becomes Jules' confidante and friend.
Through The Intern, you can learn business English on start-ups and fashion, as well as websites. It serves as a good inspiration for women who want to make it in the start-up or tech industries and senior individuals who still have a pep to their step! You can also get a glimpse of the start-up world, where workplaces are more casual, open, and collaborative. The Intern is also just a generally light, funny movie that makes it enjoyable to watch.
The Wolf of Wall Street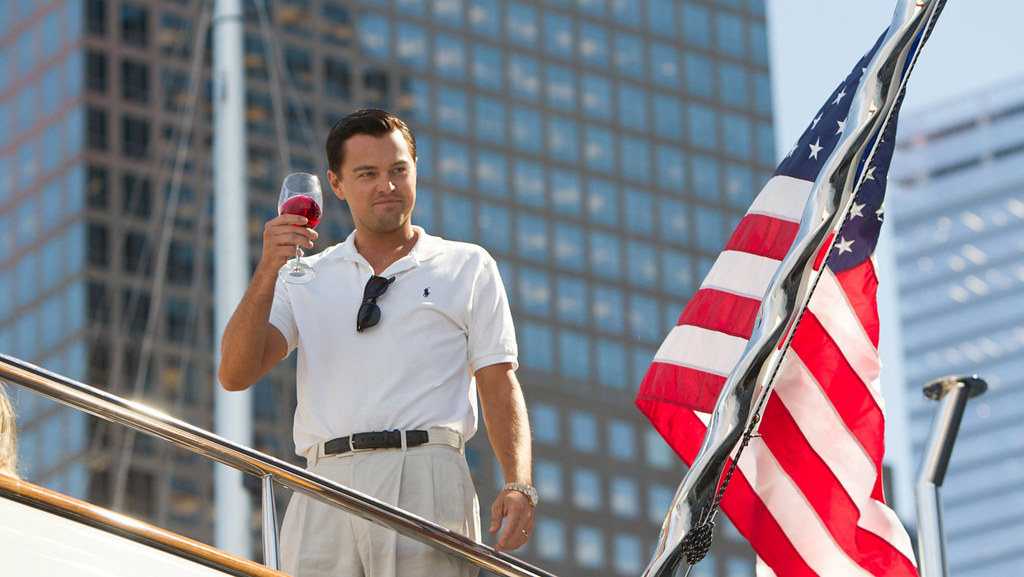 The Wolf of Wall Street (2013) is a cautionary tale and should not be taken as an inspiration for running a business. Still, it is a good movie to learn from, especially business ethics, sales, leadership, and power. The controversial movie (it contains adult material, so watch with caution) is inspired by the memoir of Jordan Belfort (played in the movie by Leonardo DiCaprio), showing the rise and fall of his infamous career. He starts at an entry-level job at Wall Street, starts his own brokerage firm in his 20s, makes millions by defrauding wealthy investors—all intertwined with a life of excess. 
The plot of The Wolf of Wall Street involves a lot of crime and corruption. But it gives you a peek into the ugly side of Wall Street (although theirs may be exaggerated). There is a lot of business jargon about investing, the stock market, and finance that you can learn from watching. 
The Social Network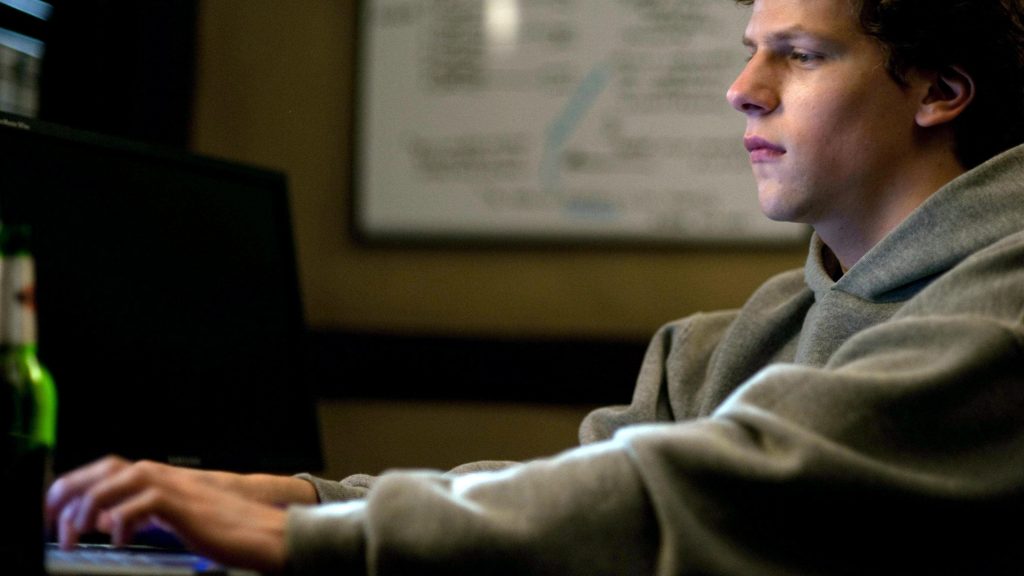 The Social Network (2010) is a loose depiction of the beginnings of Facebook. It shows how Marc Zuckerberg (played by Jesse Eisenberg), once the youngest billionaire in history, started the social networking site in his dorm room at Harvard University. With a mix of luck, hard work, and ruthless opportunism, it skyrockets to success, but not without a couple of sacrifices—including ruined friendships and lost lawsuits.
The Social Network touches on topics like programming, intellectual property, and ownership. It includes a lot of business vocabulary related to start-ups and expansions. Not only that, but it also includes casual conversations, especially between friends and students. Most importantly, The Social Network leaves many valuable lessons to any budding entrepreneur: remember the people who helped you succeed, understand that success always requires sacrifice and that the next big thing can start with a simple idea.
Office Space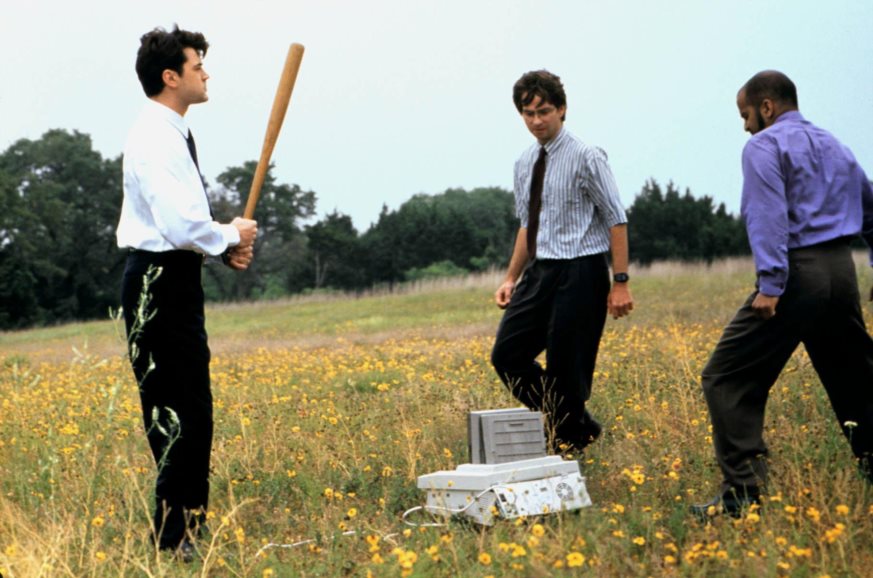 Office Space (1999) is a satirical comedy film that is set at a mundane office. It follows Peter Gibbons (played by Ron Livingston) and his two friends. Hating their job and their mean manager and disappointed at their company's new downsizing scheme, the trio plots revenge by inserting a software virus into the company computers that transfers pennies into a bank account for the three. Chaos—and hilarity—ensue after that.
The Office Space puts to light the frustrations of unmotivated employees. And although it is very relatable in that regard, despite being a movie that is set around the 90s, it is much more applicable to managers and Human Resources employees. It shows the possible lengths people could go to when they are not inspired by their bosses, co-workers, job, and office environment. It should inspire higher-ups to take of their employees. 
There is a lot of office vocabulary that you can pick up in Office Space, including conversation business English that is typically said between co-workers. You can also learn a lot about corporate culture, career development, personnel retention, and information technology. At the end of the movie, Office Space also doubles as a reminder to pursue a career that makes you happy.
The Devil Wears Prada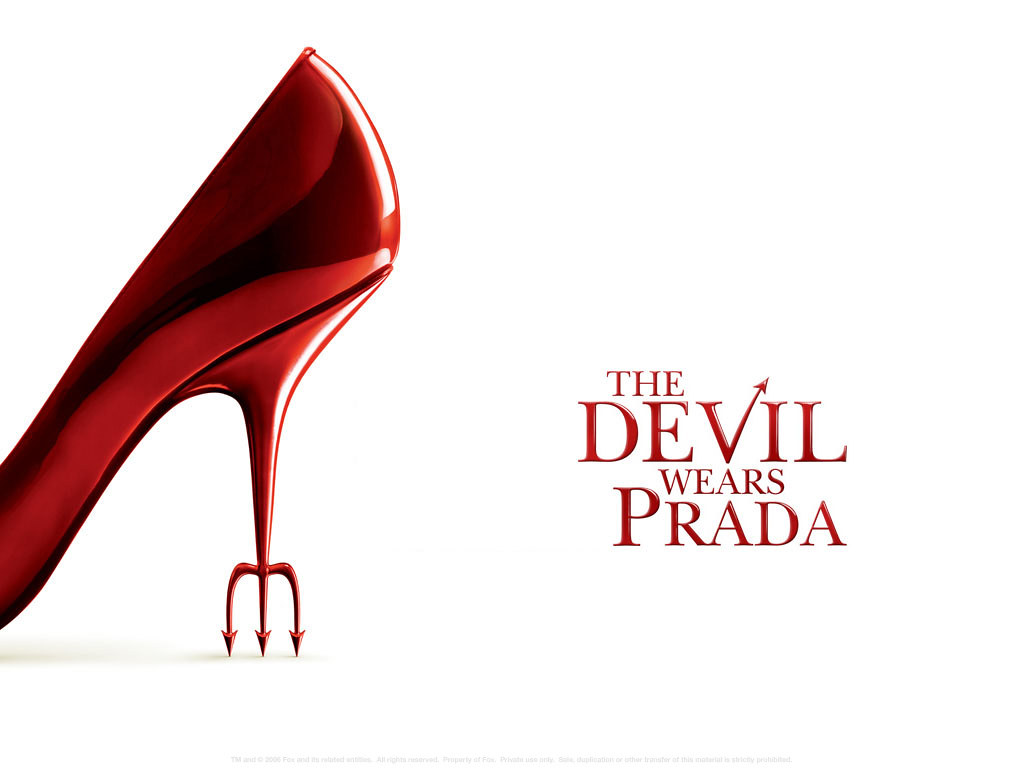 The Devil Wears Prada (2006) is a movie that follows the story of Andy Sachs (played by Anne Hathaway), who gets a job in the prestigious fashion magazine "Runway." Uninterested in fashion, she considers it superficial. But she later realizes that the job—and the industry—is incredibly demanding and challenging, especially while working under her boss, the feisty Miranda Priestly (played by Meryl Streep). After many twists and turns, her hard work pays off, and she gains the trust of Miranda. But as she enjoys her time at the top, she realizes that it is not what is all worked up to be. 
The Devil Wears Prada is a great movie to watch if you are interested in a career in fashion. Although fictional, much of what was depicted in the movie happens in real life, not just in the fashion world but also in big companies. It touches on career development, as well as branding, sales, and business techniques. The Devil Wears Prada also shows you the trade-offs one might have to sacrifice when climbing to the top of the business ladder, making you ask yourself: "Am I willing to sacrifice my values to get there?
The Founder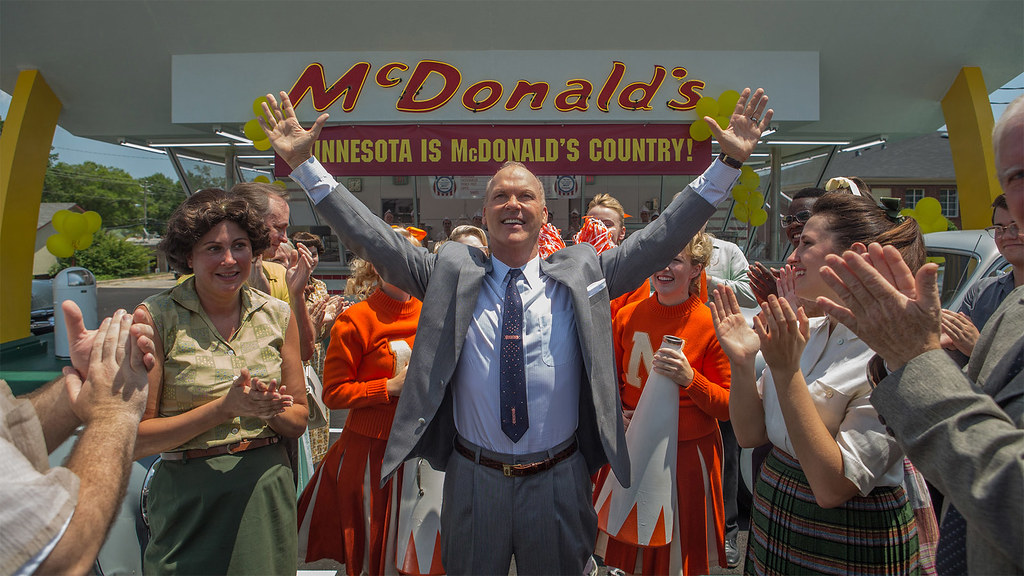 The Founder (2016) is an interesting biopic about Ray Kroc (played in the movie by Michael Keaton), a salesman who met Mac (John Carroll Lynch) and Dick McDonald (Nick Offerman), two brothers who—in the 1950s—operated the original McDonald's fast-food restaurant. The movie loosely tells the story of how Ray Kroc maneuvers himself into pulling the company from the brothers and turning it into the biggest restaurant business in the world.2
The Founder teaches several important lessons in business, specifically in the realm of contracts, franchises, and expansion. So you will pick up several vocabulary terms about these while watching. The movie also shows the ruthlessness of Ray Kroc and some mistakes made by the McDonald's brothers that future businessmen may learn from. 
Thank You For Smoking
Thank You For Smoking (2005) is a great film to watch if you are in the business of sales and marketing. It is the story of Nick Naylor (played by Aaron Eckhart), a lobbyist who works to keep the tobacco industry profitable by creatively spinning arguments to defend it and manipulating people, laws, and agencies. Although the subject matter is controversial, it lends a few tips on selling—especially products that don't normally appeal to many people.
Thank You For Smoking offers many vocabularies related to public relations, marketing, advertising, crisis management, and negotiation.
The Godfather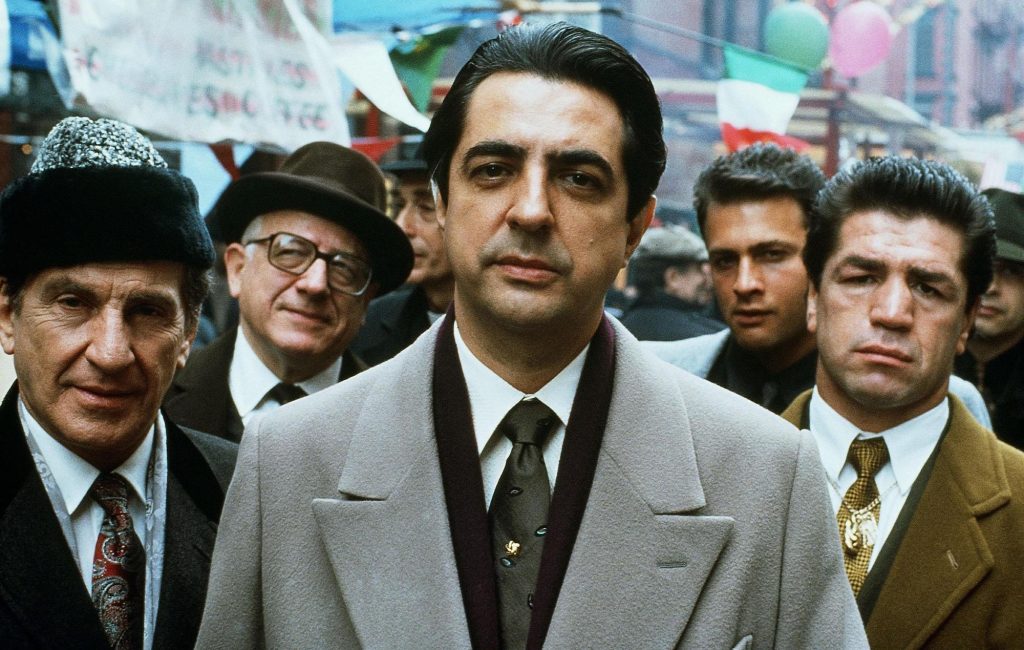 The Godfather (1972) is one of the greatest movies of all time. Even if you are not interested in its business side, it is still an amazing film to watch. That said, business is not normally what you would associate with The Godfather. The mafia drama touches on many topics, some of which will not be easy on the stomach. However, it is interlaced with entrepreneurial lessons about building networks, making connections, and business competition. 
If you watch all three Godfather movies, you are bound to encounter phrases, terms, and vocabulary related to strategies, corporate take-overs, mergers and alliances, and company diversification.
Aside from watching business movies, one way to improve your skills in business English is to learn and converse with a one-on-one tutor that can help you understand important terms. LingualBox is a platform that helps students and employees achieve their English reading, writing, and comprehension skills in whatever topic they choose. Book a class today to learn more!
---